It's time for another review! I'm a little behind on the
Throne of Glass
bandwagon, but nevertheless I read the first in the series back in June. This series is SO popular and everyone is anticipating Sarah J. Maas's newest book (coming out in September, I believe). So let's jump right in!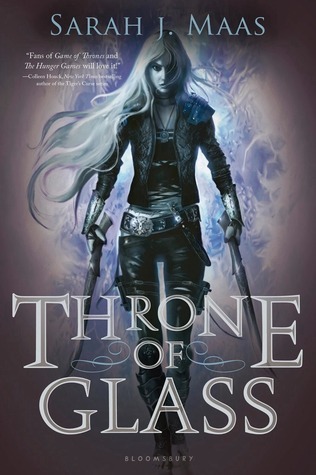 First in the Throne of Glass series
Fantasy
Gist
:
Celaena is an assassin--a REALLY good assassin. But after being forced to work in a labor camp for her crimes, she has the chance to free herself. She will compete against 23 other killers, thieves, and warriors so that the last standing can serve as the king's champion. Celaena definitely needs to win in order to find her freedom.
But this is no easy competition, and soon Celaena's competitors start getting murdered. And if Celaena doesn't discover what's happening, she is likely to be the next victim.
What I Loved:
This book could easily have been straight-up dystopian, but it has fantasy all over it. That kept it unexpected and exciting!
Celaena's characterization was very well-done--she's a kick butt assassin but still has vulnerabilities, like her fear of the king.
The love triangle in this book is so good! I love both Chaol AND Dorian...I don't know which one Celaena should choose!
I was definitely in suspense as to where this book was headed. I couldn't figure out where it was going nevertheless how it would end.
What I Didn't Love
:
This book was long. It took me a long time to read...a lot of words.
I didn't really get to know many of the other competitors, so that part fell a little flat for me.
I got a little confused as to what was happening in the fantasy part of the book. Especially at the end, I just wasn't following what the spiritual world was doing.
The cover is too futuristic to me. She looks even a little Manga-ish on the cover.
And the title...I always have to think to myself "Throne of Glass not Game of Thrones." Gets me every time.
I hate to say it, but I think this book was a 3/5 for me. So many people absolutely rave about the series, but maybe it's because I'm not completely into the fey world...?
But I'll still be designing and outfit inspired by Celaena! Check back for that soon!