My friend Emily at
The Gnoming Librarian
beat me to a review on
Daughter of Deep Silence
by Carrie Ryan, so go check her review out!
Emily and I listened to this book together on our way down to YallFest. We wanted to listen to books by YallFest authors, and I indeed got to meet Carrie Ryan!
However...I wasn't a fan of this book. Let's discuss.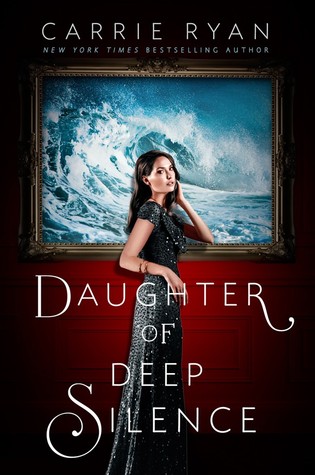 Standalone novel
Mystery/Realistic
The Gist:
A cruise ship called
Persephone
doesn't make it to its destination, and all but three passengers survive the devastation. Survivor Frances Mace knows that the ship was attacked by armed men, but the other two survivors--a wealthy politician and his son--lie to the media and say the ship was capsized by a rogue wave. Frances is now out for revenge and will stop at nothing to avenger her family and best friend's death.
What I Loved:
I loved the concept of the book--a girl seeking revenge without fully knowing the truth behind the cruise ship's destruction.
I love the TV show Revenge, so it's fun to see the tricks Frances has up her sleeve when trying to uncover the secrets.
What I Didn't Love:
The cover. Don't get me wrong--the cover is GORGEOUS--but it doesn't fit the book. It makes the book look historical and romantic...and it's not.
This book is really a copy of the TV show Revenge. Which is disappointing since I thought Ryan's book The Forest of Hands and Teeth was awfully similar to the movie The Village. So it just seemed like a copycat. There's even a character named Grayson, which is a major name on the TV show.
Frances fell HARD for Grayson when they were on the cruise ship for ONE WEEK. And he fell for her too. So a few years later they're still pining for each other? Really? And maybe it's because I listened to this book on audio, but she sure talked about her love for him A LOT.
There were so many plot holes here. It just wouldn't work. Frances takes her friend's identity--and successfully fools people--and the media doesn't go crazy when they discover her as a survivor. I just kept coming across things that wouldn't work in the real world. Which made the whole book fall apart.
So this one was a blah book for me. Only 2 stars for me.
What are some recommendations that you have for me?