A few weeks ago I interviewed authors Katie McGarry and Lex Thomas (two guys) for a library conference panel. And it was amazing! I loved every minute of it! They were all so gracious and just plain fun! You can watch about ten minutes of the panel here:
Today I'm reviewing Katie's book
Pushing the Limits
. My students have been obsessing about this book for the past few years and I loved it, too! I'm not always a big romance fan, but this one was just so great! Let's jump into the review: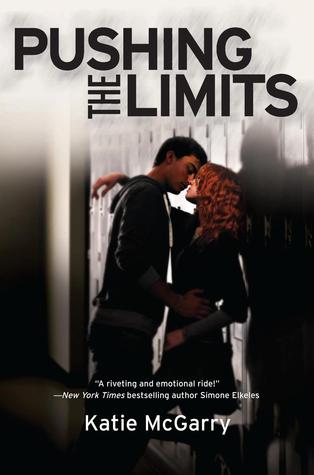 First book in the Pushing the Limits series
Romance
The Gist:
Echo Emerson used to be super popular...but life has changed. Her brother died in the Iraq War, her parents divorced and her father married Echo's childhood babysitter, and Echo now has horrific scars on her arms and isn't allowed to see her mother. And she can't remember why.
Noah Hutchins lost his parents in a house fire and he and his brothers have been separated in foster care. He would do anything to get his brothers back, but he most deals with it by using girls, doing drugs, and giving adults an attitude.
These two, who have so much to deal with in their own lives, find themselves together in a tutoring session. And the more they learn about each other, the more they start to fall for each other.
What I Loved:
Sure, this is a romance book, and sure, these characters are going to fall in love. But there was so much depth to them! This book wasn't the "fluff" that so many romance books get labeled. I really appreciated that.
The romance was good, too. I mean, it is a romance book after all. :)
When you read a romance book, you know the main characters will end up together, but in this book you just don't know how it's going to work out. I liked that "suspense" part of the plot.
I love that Noah told part of the story and Echo told part of the story. You really get to know the characters intimately this way.
What I Didn't Love:
Noah's pet names for Echo were silly...and cheesy.
A really enjoyable read and it made meeting Katie even more special! Four heels for me!
Have you read Pushing the Limits or any of the others in the series? I'm anxious to read more!
An outfit for Echo coming up tomorrow!