Today's post is a review on
Rebel Belle
by Rachel Hawkins. The cover alone should cause you to stop--isn't it gorgeous?! Even with a dagger on it! I listened to this book on audio in November and it was fun and suspenseful. I can't wait to read the sequel!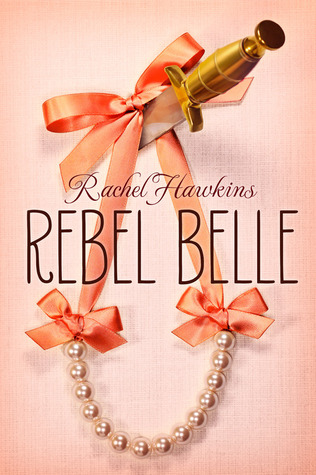 First book in the Rebel Belle series
Fantasy
The Gist
:
On Homecoming night, all Harper Price can think about is how she forgot her lip gloss and will need it when she's crowned queen. But as she's fixing herself up in a bathroom, a custodian and history teacher burst in, fight to the death, and pass the Paladin superpower on to Harper. A power that makes her super-strong, agile, and lethal. Not necessarily the most ladylike skill. And as a Paladin, Harper has to protect David--her everyday enemy.
What I Loved:
This book is adorable, fun, and surprising. The villains are fun and the action is buys.
It should be mentioned again that this book is fun. Who knew killing bad guys could be so fun? I even laughed out loud.
The Southern scene with the Southern characters really came through. This setting added so much to the plot.
If you're going to have a nemesis, it should be someone who beat you in the spelling bee...just saying.
What I Didn't Love:
I saw the poisoned punch coming...but I don't think younger readers will.
Maybe it's because I was listening to it instead of just reading, but I got a little confused at some of the Paladin/Effers/etc rules and system. I probably should have re-listened to some parts.
A really fun read and I can't wait to read the sequel,
Miss Mayhem
!