Today I'm bringing you a review of Walter Dean Myers'
Darius & Twig
. This was a quick read for me (it's a fairly short book) since I kind of knew what to expect with Myers. So enough chit chat...let's jump right in!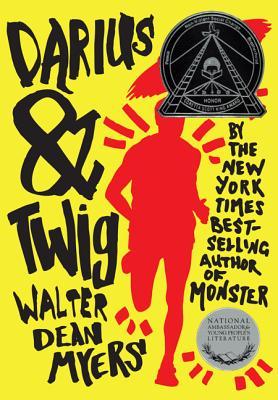 Realistic/Urban fiction
Standalone novel
The Gist:
Twig is a competitive and skilled long-distance runner. Darius is a writer who creates Fury, his peregrine alter ego. Both want to pursue their passions but are growing up in the dangerous, unpredictable Harlem. And that setting doesn't make it easy to go after their dreams.
What I Loved:
This book gets to the heart of the characters. It sends a message that there is so much more to a person than the outside.
What I Didn't Love:
I wanted more from the minor characters--Darius' mom, Twig's uncle, Herb, Sammy. Maybe because the book was so short it just didn't go past a surface level characterization.
I couldn't understand what Twig wanted. Did he want to be a runner? Did he want to give up? Confusing.
The mom's advice seemed hard to follow.
Favorite quote:
"Idiots don't know they're idiots, which is unfortunate."
As you can see, this was not a favorite of mine. I just felt that overall it was lacking. Which is too bad, because Walter Dean Myers is a renowned author, and I just wasn't invested in the story. Only 3 stars for me.
I'll be designing an outfit for Twig tomorrow--catch you then!