My friend Emily (from
The Gnoming Librarian
) has told me over and over to read
Shadow and Bone
by Leigh Bardugo. I'm not sure what was stopping me--too many books on my TBR list, maybe?--but now I regret waiting so long! What a fun read! Let's jump into the review!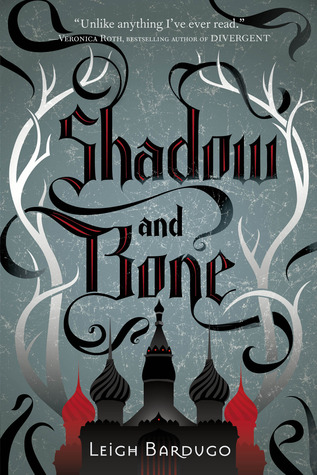 Fantasy
Book One in The Grisha series
The Gist:
Mal and Alina are orphans. And they're normal, which means they serve in various roles in the military while the powerful Grisha use their magical skills to serve the King and the Darkling.
As they try to cross the Fold, a dark and very dangerous area roaming with human-eating Volcra, Mal is hurt and Alina shockingly saves him. She saves him with a power that only Grisha have. Which means Alina is a Grisha after all. And everyone wants to use her power for their good.
What I Loved
:
This book was so unique. I loved the characters, the plot, the mystery. The bad guys and good guys are all so good in their parts. I was totally invested.
Who can be trusted is unknown and often changes. I loved not knowing what to expect.
Mal and Alina's relationship is believable and beautiful. Love them both.
There were big, intense moments that I couldn't predict. So exciting!
What I Didn't Love
:
I didn't really understand the function of the priest/spiritual adviser--whether he could be trusted or not was unclear.
How exactly Alina worked her powers was a little confusing.
My favorite line
:
"There's nothing wrong with being a mapmaker."
"Of course not. And there's nothing wrong with being a lizard either. Unless you were born to be a hawk."
I loved this book! Quick, exciting, and just plain fun! I can't wait to see where the series leads.
An outfit fit for the Grisha tomorrow--see you then!