Happy Monday, everyone! I SO hope you are having the lovely weather that we're having in Indiana right now! Our family spent the weekend exploring the creek behind our neighborhood, going on "tractor" (lawn mower) rides, and just soaking in that beautiful sun. I feel refreshed and energetic to start another week.
Today's review is on
Landline
by Rainbow Rowell. I met Rainbow at an author event a few years ago and she was exactly as I pictured her--both bubbly and quiet, appreciative, and genuine. With a little bit of flower power mixed in. :)
Last fall,
Landline
was ALL that I was hearing about from so many readers. Although it's one of Rowell's adult novels, readers of all ages were eating it up and singing its praises. And that's what's so great about Rowell...she takes something like a magical yellow phone and turns it into an engrossing, can't-put-down story. So let's jump right into my review!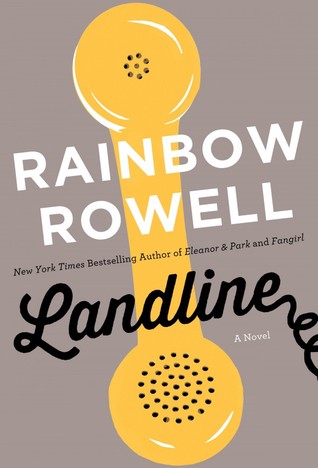 Standalone novel
A mixture of realistic/fantasy/romance
The Gist:
Georgie McCool (yes, that's her real name!) has finally hit her big break in Hollywood--she is about to pitch her own sitcom to the network. The only problem? The network needs multiple scripts in just a few days and it's the week of Christmas. The week when Georgie is supposed to fly with her husband Neal and two daughters to Omaha to visit Neal's family. And even though Neal and the girls allow Georgie to stay behind in California, Georgie knows that this might be the one thing that pushes her marriage over the edge. And that by gaining a sitcom, she might be losing a husband.
When Georgie tries to call Neal from her mother's old yellow landline phone, she gets Neal to answer. But not present-day Neal. Neal from their dating days, when his father was still alive and Neal and Georgie were in the midst of an argument. And Georgie realizes--if she's talking to Neal in the past, she may have the chance to fix their later marital problems.
What I Loved:
Like I said, this is a book about a magical phone. So to most people, that might sound too silly to read. But Rowell has a way of making this a nonstop read. Her writing makes her characters (and even a magical phone) real. I can completely picture this family living today.
This isn't straight-up romance. There's bittersweet moments, arguments, frustration, questioning...but there's also romance.
I love the wittiness of the characters. It makes me want to be friends with them in real life.
The secondary characters are so good. I want to work with Georgie's partner or eat pizza with her sister...maybe even babysit her mom's dogs!
I had no idea how it would end...and it ended greatly.
What I Didn't Love:
Like with so many other things, I think this book got hyped up to me SO MUCH that I expected it to change my life. It was a great read, but I just know that I'm less enthusiastic about it than just about everyone else.
I'm sad to say this...but I just wasn't in love with Neal. He seemed so moody, and at times I felt like he darkened Georgie from her bright, bubbly self.
I couldn't stop picturing Georgie as Rainbow Rowell herself...is it just me that did this? Every time I read about Georgie's physical description, I just kept thinking about Rainbow herself. Hmmm.
Rowell never disappoints, and this was a great one! A great read for teens and adults alike!
An outfit for Georgie coming up this week, a review and outfit for the book
Belzhar
(so good!), and I'll show you TWO ways that I recently styled denim and LOVED it! Catch you back here tomorrow!