Wow, it's Thursday already! This week is flying by (no complaining here) and on this rainy Indiana day I have a FANTASTIC book to encourage you to cuddle up with.
Today's review is on
Belzhar
by Meg Wolitzer, a little-realistic, mostly-fantasy book that will keep you curious and committed to the last page. So let's jump in!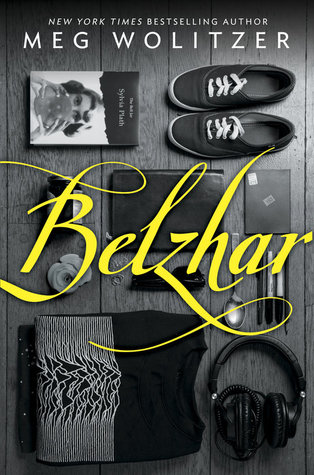 The Gist:
Jam fell in love with Reeve, a foreign exchange student with the most adorable accent. And then he tragically (and mysteriously) died, leaving Jam in a complete pit of mourning and despair. In fact, her despair is so bad that her parents send her to The Wooden Barn, a therapeutic boarding school for students who need closer attention to help them handle their emotional state.
Jam doesn't care much for the teachers or other students, but when she gets registered in an exclusive English class called Special Topics, everything changes. Studying Sylvia Plath for the semester, the class receives journals that take them to Belzhar, a land where they can each interact with the source of their problems. And Jam gets to see Reeve again, talk with him, and feel his arms around her.
But Belzhar can only last for so long before Jam has to start talking about his death...
What I Loved:
I loved the setting, the situation, the characters. I can definitely see a camp-like school exist to help students with emotional problems (maybe not ones with magical journals...) so I was invested into the story early-on.
There were multiple student situations flowing through the book; you find out why Jam's classmates are at The Wooden Barn, and it just adds so much depth to issues students may be dealing with today.
The twist at the end--oh man! Added a whole other layer to Jam and really up'd the WOW factor for me.
I was definitely satisfied with the book's ending.
What I Didn't Love:
The cover. While I like the look of everything that Jam would have packed in her room, the cover looks a little 1950s. Yes, I know there are headphones on the cover but the black-and-white feature dates it too far back.
The word "Belzhar" itself was a little cheesy.
I'm giving this 5 stars! I just loved it--it was unique, kept me engaged, and tied up loose ends. Well done, Wolitzer!
I'll have an outfit designed for Jam tomorrow--see you then!