Happy Monday, everyone!
What a beautiful weekend we had here in Indiana! Well, half-weekend since it rained all day on Sunday. But we were fine with the rain because we had seeded our lawn on Saturday and needed it watered! I read a GREAT book this weekend (will be telling you about it soon!) and just feel like I'm in my reading groove.
Today I have a great review to share with you--
Atlantia
by Ally Condie. Condie wrote the
Matched
trilogy which was a lot of fun to read. This is a unique, fantasy read that took me into a world I definitely hadn't read about.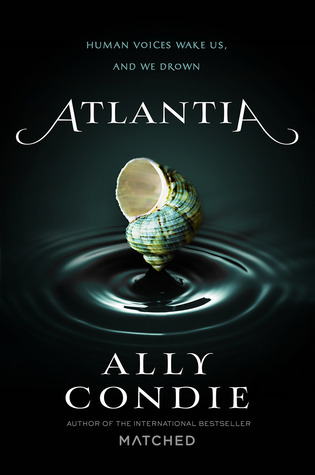 The Gist:
Rio has always wanted to live Above. But she lives in Atlantia, an underwater city that requires at least one member of each family to stay in Atlantia forever. Rio has always known that she will go Above, but when her parents die, Rio agrees to stay in Atlantia with her twin sister Bay so they won't be separated forever. But then Rio's worst nightmare happens--Bay tricks her and takes her spot Above, meaning Rio is stuck in Atlantia forever. And now she's trying to figure out two things--why Bay deceived her and how she can get Above.
What I Loved:
The first chapter had me hooked. Bay tricked Rio! Why?! Does she have a plan? Is she evil?
I LOVE that this is told from Rio's point of view, because I shared all the questions that Rio had. It made the story so much more intense being in first person.
I also love that this is a standalone novel. I knew that questions would be answered and there would be resolution.
Such a unique setting--the underwater city of Atlantia--with Sirens and religious corruption. It all had me fascinated.
I loved Rio's secret of being a Siren and having to hide her real voice.
What I Didn't Love:
The resolution was a little too fast for me. I thought that the final few chapters could have been expanded/explained so much more.
The second half was slower than the first, and I always find it too convenient when certain characters are immune to others' power.
A fun read! So different than the norm and nice to know I don't have a sequel to catch up on!
Can't wait to show you the outfit I designed--coming up tomorrow!