Wow, it's been a week...how did that happen??! I won't even give you excuses but I'm happy to be back with a new review...especially this review! It's If I Lie by Corrine Jackson, a book that I had to read for a committee and honestly thought I would dislike--it just didn't seem to grab me from the excerpt--but boy did I love it! So let's jump right in: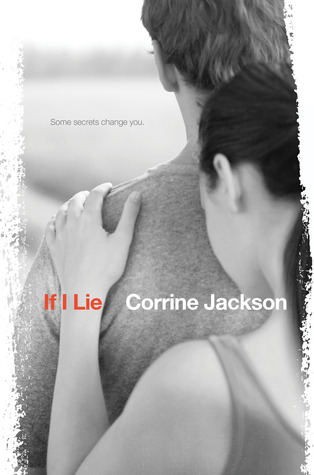 Standalone novel

Realistic fiction
Quinn seemed to have it all--a handsome and beloved boyfriend, Carey, a spot in the popular crowd, and the respect of her peers. This even increases when Carey goes off to Afghanistan to fight for the U.S., making him a hometown hero and Quinn the sweet girl waiting for him at home. But when a photo of Quinn--half-naked with ANOTHER guy--leaks to the town, everyone turns on her. Because how dare she cheat on her boyfriend, a soldier who is risking his life for her freedom? And when Carey goes MIA during a mission, Quinn finds herself completely alone and bullied.
Realistic fiction can sometimes take awhile for me to get through because there often just isn't enough action for me, but this book was a page-turner. I was really interested in how Quinn's story was going to turn out.

I loved Quinn's relationship with George, a war veteran living in an assistance community. Their friendship brought needed humor into the book and gave readers a look at how we can remember the stories of our veterans.

This gave us a realistic look at cyber-bullying and how easy it is to follow the crowd. Quinn is practically a pariah after the photo of her circulates and it's fascinating to see how everyone treats her.

The flashbacks throughout the book were really well done. Sometimes flashbacks drive me crazy, especially when I'm involved in a story, but Quinn remembering her mother added so much to her and Carey's characters.
Ok, even though I found the bullying to be realistic, the fact that EVERYONE turned against Quinn--even her own father--was not. No one gave her any credit, and they didn't even know the whole story! I've been in situations before where students have done some HORRIBLE things, and there are always staff members/students who give them a break. There was little grace in this book.

We learn early on that Quinn is actually keeping a secret for Carey, and even though that secret is also revealed early, I guessed it right off the bat. A little predictable.
It's hard for me to say what I didn't love, because I genuinely loved this book. Kept me engaged and turning pages! 5 heels from me!
I'll be back with an outfit perfect for a military girlfriend...hmmm, what could I mean by that?!
Have you read If I Lie? What did you think?