YOU GUYS. I got back from Y'ALLFest yesterday and it was amazing! I loved every single second of it! Overall I met 38 authors and got signatures from all--that's huge! I'll be making a video recap for you, so watch for that on
my YouTube channel
.
Today I'm reviewing
Hollow City
by Ransom Riggs, the second book in the
Miss Peregrine
series. I absolutely love this series! It's killing me that I haven't read the third book in the series yet, but I'm waiting until I'm done teaching
Hollow City
in an English class (I don't want to get the two confused). So let's get more into the specifics--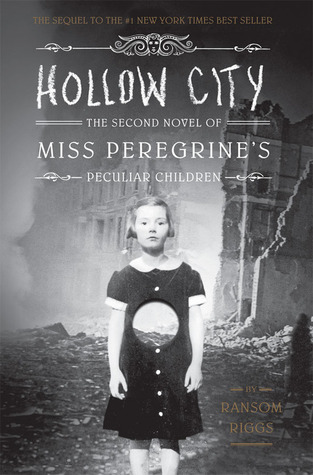 Fantasy
Second book in the Miss Peregrine's Peculiar Children series
The Gist:
Following the events of the first book in the series, the peculiar children leave for London with Miss Peregrine stuck in the form of a bird. They need to find help for Miss Peregrine, themselves, the other ymbrynes, and the rest of the peculiar world.
What I Loved:
You get to see the minor characters in larger roles in this book. I loved seeing their personalities and back stories, especially Bronwyn, Enoch, Hugh, and Millard.
Speaking of Millard, I LOVE him! The soft side of him really came through in this book.
The ending!!!! What a shock!
There are crazy action scenes just full of suspense. I kept wondering how in the world they would make it through certain scenes.
What I Didn't Love:
There was a slow start to the book. My friends and I have been telling our students that you just have to "get across the water." That's when the momentum picks up.
I miss that the photos in this book weren't photos that Jacob found; they were photos that just showed what Jacob was seeing in the moment. It took away a little bit of the magic of the photographs.
It's hard to list anything I didn't love in this book, because it really was a fun, suspenseful, crazy read!
Have you read
Library of Souls
yet? What did you think?