If you watched my
June TBR video
, you saw that I wanted to finish
Red Queen
by Victoria Aveyard at the beginning of the month...and I did! Fairly quickly, too. Can we just pause for a moment and look at this cover?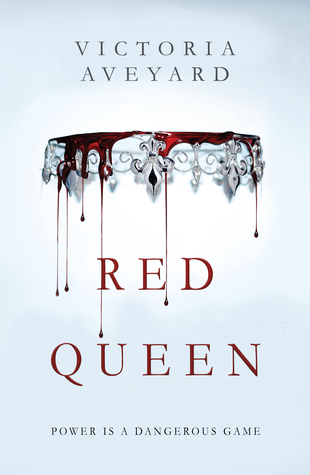 Oh my goodness. It is gorgeous and twisted and scary all at the same time. I love it.
This was such an interesting read for me--mostly fantasy, a dystopian world, some romance and history thrown in. Made for a fun and mysterious read!
Let's jump into my review!
Fantasy (with a Dystopian setting)
#1 in the Red Queen series
The Gist:
The world is split between two kinds of people: silver bloods and red bloods. Silver bloods have power, literally. They are the wealthy, the elite, the government, the money. And some of them have superpowers, like being able to heal, control water, control fire, turn to stone, read minds, etc. The red bloods are the poor, the common, the "normal." Mare Barrow is a 17-year-old Red Blood girl living in The Stilts, a poverty-stricken area. And she's expecting to be sent to serve in the military like her older brothers when instead she is thrust inside the Silver palace. It is there that she (and everyone else) discovers that she too has a power, just like a Silver blood. And instead of being a nobody girl in The Stilts, Mare is a secret of the kingdom--and if she plans on surviving, she has to learn how to control this secret.
What I Loved:
Ok, I already mentioned the cover. But it should be noted again. When I met Robyn Schneider on her book tour recently, I also met author Maggie Lehrman, and she and I gushed over this cover for a moment together.
I kind of want silver blood now (I mean, how cool would it be to have silver blood?!).
I love the mix of genres in this book. Definitely a fantasy with the amount of magic in the book, but it's thrown in a dystopian world with contemporary technology and medieval connections.
The villains are VILLAINS. When you hope they'll have a change of hope, they don't. Just as real villains would be.
The ending had some big twists and surprises. It was my favorite part of the book.
Some heavier questions underline this book, like how willing you would be to sacrifice yourself for the greater good. And is it ok to sacrifice a few for the good of the whole?
What I Didn't Love:
I just couldn't grasp the layout of the world in this book. It seemed a bit complicated to understand the land, where everything was located, etc.
Speaking along those lines, I could not keep straight all of the families/houses/colors associated with the people. In Harry Potter, I totally understood the four Houses at Hogwarts. In The Hunger Games, I grasped the 13 districts. I just don't get any of these.
And there are a LOT of powers held by people. It was superpower heavy. Again, just a lot to figure out.
I really enjoyed this book. A great debut by Victoria Aveyard, and I'm definitely ready for the sequel! I have a really fun nail polish look coming up on Thursday based off the book...you'll definitely want to give it a try!
Tomorrow I'll have video of my favorite things from June! A lot of fun things to share!