YOU GUYS. This week is going to be SO FUN on the blog! If you watched
my June TBR video
, you saw that I LOVE Robyn Schneider. Her books are witty and clever AND she's a YouTube beauty guru...so we were obviously meant to be best friends.
I got to meet and interview Robyn a little over a week ago while she was touring for her newest book,
Extraordinary Means
. And I love her even more after meeting her! So I decided to make this "Robyn Schneider Week" on the blog! I will review both of her books, show off some outfits I designed for both of them, and post my interview with Robyn.
So let's jump right in!
Today's post is a review of
The Beginning of Everything
, Robyn's first book. I picked it up on a whim and was SOLD by page 3. Definitely one of my favorite reads of 2015. Even one of my school's English teachers, who coaches football and prides himself on being manly, told me he "freakin' loved it." Yes, it's just that good. So let's get reviewing!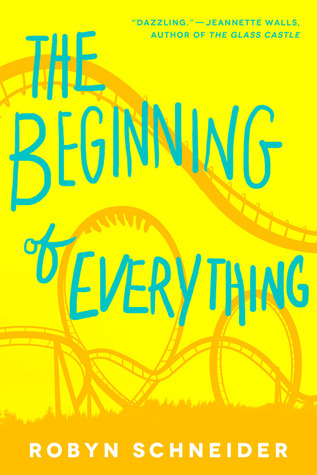 Standalone novel
Realistic fiction
The Gist:
Ezra Faulkner seems to have it all--at the end of his junior year he is a star tennis player and a front-runner for Homecoming King and has a popular girlfriend. But when he catches his girlfriend in the act of cheating and leaves a party hurriedly, he is hit by another car and has his life changed forever. Now a bit crippled and unable to play tennis, he loses his so-called friends and popularity status. And on the first day of his senior year, Ezra finds himself completely starting over. But when he meets Cassidy Thorpe, a girl unlike any others, he realizes that this may just be his chance in re-identifying himself.
What I Loved:
First of all, Schneider's dedication to her parents at the beginning of the book is witty and adorable. Completely sets the pace for the book (and when do dedications ever do that?).
The first three pages just got me...Poor Toby at Disneyland on his birthday!!!
And speaking of the first three pages, the cover is genius! Love love love it!
I want to be friends with Toby, Phoebe, Austin, and the rest. The characterization was fantastic.
I thought I had figured out the twist involving Cassidy, and I was disappointed that I had it solved. And then I learned that I DIDN'T have it figured out.
What I Didn't Love:
There's a bit of a plot hole towards the end. Did no one ever look for the person who hit Ezra in the accident? No police reports/investigations? I feel like that would have been a curiosity.
My Favorite Quotes:
"That everyone's life, no matter how unremarkable, has a moment when it will become extraordinary--a single encounter after which everything that really matters will happen."
"The funny thing about gold is how quickly it can tarnish."
"We're taking the road beyond the road less traveled, and being on time will make all the difference."
Gosh, I just loved this book. Witty, heart-wrenching, mysterious. Five stars from me!
Tomorrow you'll see an outfit for EZRA--yep, a guy's outfit! Inspired by his joining the debate team. So come back and check it out!