I hope you all had a wonderful July 4 weekend! We had a great time with friends--shooting off rockets, grilling out yummy food, and watching the city's fireworks. It was a great weekend of relaxation and family focus!
Today's review is on
The Strange and Beautiful Sorrows of Ava Lavender
by Leslye Walton. And I think the title describes this book completely--strange and beautiful. So different than anything I've read and a story so beautiful that I still think about it.
Have you seen the movie
Big Fish
? Sort of like that. So strange, so different and unique, yet so beautiful.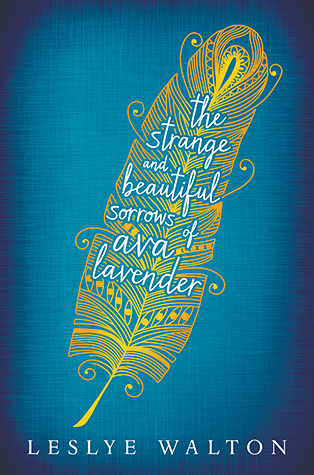 Standalone novel
Fantasy/Magical Realism
The Gist:
Ava Lavender is unique--she was born with bird wings. And her family heritage is just as strange, too. At age 16, Ava just wants to fit in, but she simply doesn't know how to do that in our world. But you can't escape who you are, and sometimes you can't escape how others react to you.
What I Loved:
I feel like the gist that I'm giving you for this book just doesn't even cover the surface. This book is so intricate and very character-focused, and there are just so many layers to it. So many great layers.
The writing style is beautiful. Lyrical.
I love the characters in this book; some have a deep love for each other that goes beyond saying "I love you."
A climactic ending that is even a bit of a nail-biter.
The cover fits the story beautifully.
What I Didn't Love:
The story does tend to jump all over the place, which can even be a tad confusing at times. A lot of characters to keep up with.
An easy four stars for me! A story that simply pulls you in and keeps you thinking.