Hi, readers and fashionistas!
Last week I reviewed The Testing by Joelle Charboneau, a book that unfortunately I think I read too late in the dystopian fandom. Meaning I've read so many dystopian books by this point that it just seemed like a combination of other well-known dystopian books. Even the cover reminds me of a mockingjay/Catching Fire clock, which is just a shame.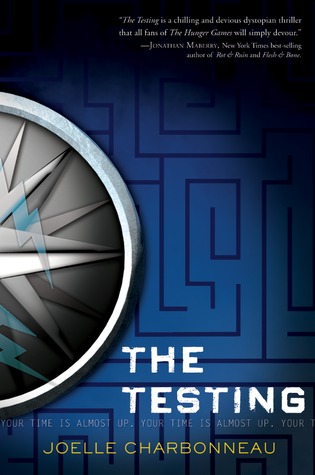 But Cia was an interesting protagonist, and we really get to see what she's made of in the final round of the Testing. She's trekking across the country, avoiding possible enemies that are posing as alliances and watching out for deadly traps. So I was definitely inspired by her character for an outfit. I knew I wanted it to be rugged with a bit of practicality and yet still girly. And here's what I designed:
Notice that there are no bright colors here. Cia is not bubbly, super smiley, or just out loud. So her colors needed to be muted and even a little natural.

I paired black skinny jeans with a leopard print tank top. The print isn't too in-your-face and emphasizes Cia's ability to use nature wisely. An olive cardigan over top is practical and dulls down the brightness in the top.

Black slouch boots are totally what I picture someone wearing while trying to survive.

The gold bracelet is just to add in a little femininity. Keeps the outfit from looking too plain.
So what do you think? An appropriate outfit for someone who's trying to stay safe in a dangerous situtation?
Skinny Jeans--Michael Kors
Sleeveless Blouse--Keira Mischeivous
Cardigan--Lookbook
Boots--Diva Lounge
Bracelets--Wet Seal
Tomorrow I'll be showing off some more library artwork--come back to check it out!
*I am not associated with any companies/products mentioned.