Happy Tuesday, everyone! Man, this weekend we had BEAUTIFUL weather in Indiana! I took my boys to the park (the park? in February?!) and they LOVED crawling and running and sliding all over the place. I so needed that for my soul, and I feel completely refreshed in starting off a new week!
Today I'm reviewing
Unravel Me
by Tahereh Mafi. But before I jump into it, can we just talk about Mafi and her husband Ransom Riggs for a minute? I mean, talk about a dynamic duo! Those two would be a BLAST to have over for dinner.
I read
Shatter Me
, the first in the
Shatter Me
series, which follows Juliette and her "gift" of being able to kill with her touch.
Unravel Me
is the second in the series and picks up when Juliette finds safety with others like her. So let's jump right in!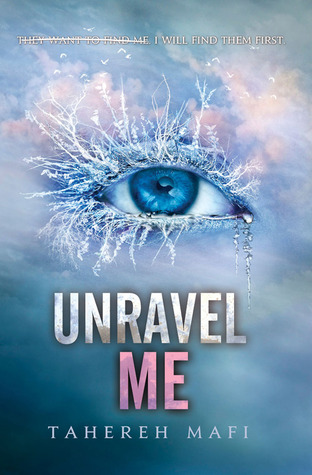 Dystopian
Second book in the Shatter Me series
The Gist:
Juliette is now at Omega Point, an underground sanctuary for people like her, people with gifts that set them apart. It's also the headquarters for the rebel resistance, and Juliette finds herself in the smack dab of the plans to take down Warner and his father. Juliette isn't comfortable with the new population and desperately wants to be with Adam alone, but this is a new environment that she won't be able to escape.
What I Loved:
There was so much character development in this second installment. I felt like we moved past just Juliette and Adam and got to see so much more into Kenji, Castle, Warner, and even Warner's dad. I loved digging deeper.
I love Mafi's writing style. Although not as many strike outs in this book, it is nevertheless filled with such beautiful writing. Mafi's words just flow together like they were meant to be.
What I Didn't Love:
This book is L-O-N-G...I think it's like 465 pages. And there just wasn't much action involved. A lot of internal thinking...like A LOT of internal thinking, and that just wasn't enough to keep me turning pages quickly. Took me awhile to read the book.
I just didn't like Juliette very much. She was moody, antisocial, and a loner. I wanted to scream "You can't put everything into Adam and give nothing to anyone else!" A tragic case of girl who falls in love and drops everyone else. So Juliette's storyline just dragged on to me.
In other words, I just needed this book to move faster. I needed the characters to get out of Omega Point earlier and move on toward the action.
I will definitely finish this series, but this book was a little too stagnant for me. Ready for an exciting end to the trilogy!
Juliette wears this awesome spandex suit for most of the book...can't wait to show you my inspiration for it! And a Valentines Day outfit coming, too!