Hey, readers and fashionistas! I'm excited about today's book review--I loved this book because it was such a surprise for me. I expected controversy and edginess, and I got a deep-thinking and realistic portrayal of a sister's internal struggle. So good!
Today's review is on Dana Reinhardt's newest book, We Are the Goldens. I had read her book The Things a Brother Knows and really enjoyed it, so this was an easy grab for me. But I LOVED it. Let me explain why: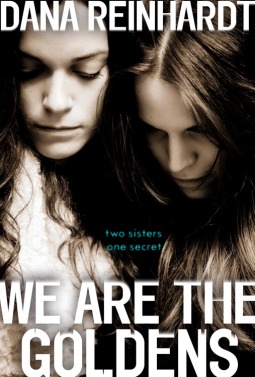 Standalone novel

Realistic fiction
The Gist:
Layla and Nell are the Goldens. And Nell absolutely adores her sister. Loves living a few years behind her and looking up to her. But Nell notices that Layla is more distant than normal, uninterested in normal high school things, and unconcerned with school gossip. And then she learns of Layla's big secret. A secret that could change their family's life forever. A secret that haunts Nell's every moment.
What I Loved:
The point of view of the book--it's second person, which is so rarely seen in fiction. Nell is speaking to Layla throughout the book, giving her behind-the-scenes info on the decisions she's made. So effective since this book is all about looking at a situation through Nell's eyes.

Even though I wanted major action to happen in the end, I'm glad it didn't. It just didn't need it. This book is about Nell even more than it is about Layla.

This book is so gosh darn realistic...and that's all I can say about that since I work in education.

I didn't think the adults were weak in this book. The parents cared about their girls and appeared to be very realistic as divorced parents.
What I Didn't Love:
The cover. Just doesn't work for me.

Even though I loved the ending, my students won't like it. I'll have to convince them why it's the best choice.
Favorite quote: "They had three times the pool to choose from when putting together their team, so of course they were better than us. Plus it was a Jesuit school, so they probably had God on their side to boot."
Such a great book--I highly recommend it!
Yep, 5 heels for me!
I'll be designing a Nell-inspired outfit soon! I'm headed to YA'LL Fest tomorrow...can't wait to tell you all about it!